When you own an Albuquerque rental property that's in an HOA, there are a unique set of skills and resources that you need from your property manager. At Blue Door Realty, we have extensive experience working with properties within an HOA.

Before You Buy: Make Sure You Can Rent
One common mistake that real estate investors make is to purchase a property in an HOA without reading the rules and regulations regarding rentals. Some associations won't allow you to rent out a property. Others will require you to wait for a year. In some HOAs, there is a limit to how many homes in the community can be used as rentals, so you may be on a waiting list to rent yours out.
These are the things you need to know before you invest. Get to know the bylaws of the HOA community and all of the requirements and restrictions that pertain to renting out your property.
Common HOA Rules and Regulations
Every community association is different, but there are a few things you can always expect when you own property that's in an HOA.
One of the most common regulations you'll find within any HOA is what type of paint and trim can be used on the exterior of a house. Some HOAs will have a list of paint colors that are acceptable. Some will require that you submit your preferences for approval before you paint the outside of your home. Your HOA may prohibit yard signs, lawn ornaments, and overgrown flower pots. Fencing can be a big issue, so make sure you know what is and is not allowed.
If your rental home is in a community that provides amenities such as a pool, clubhouse, fitness center, or other facilities, you'll have to make sure your tenants understand the restrictions and requirements. Keys will be issued, numbers may be limited, and there will be additional rules that surround the use of these amenities.
Your pet policy may depend on the association's pet policy. The HOA can determine whether pets are allowed, so make sure you check a community's pet policy before you buy a home. There may be restrictions on sizes and breeds. Some communities allow all animals, but only one per household. It will depend on your association. You might need to provide proof of extra liability insurance if you move in a tenant with dogs, especially if they're considered dangerous breeds.
Albuquerque Property Management and HOAs
When you're looking for an Albuquerque property management company to lease, manage, and maintain the home that's in an HOA, make sure you work with a team that has experience. We offer a guarantee to our owners that they won't have to deal with violation or collection letters from the HOA. This doesn't mean the tenant won't have a violation, but we'll ensure the process is handled without the involvement of the owner. Our property managers and residents will work closely with the HOA to resolve any conflicts or disputes. We'll also pay your HOA dues every month on your behalf.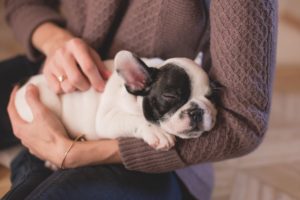 Buying a rental home in an HOA comes with many benefits. However, there are also additional risks. We can help you have a successful investment experience with your HOA property. Contact our team at Blue Door Realty.