Your Albuquerque property management company should be effectively leasing, managing, and maintaining your investment property. If this isn't happening, it's probably time to find a new partner. Change can be difficult – we get it. But, we're talking about one or more of your largest assets. Do you really want to stick with a company that isn't providing the services or the value that you expect?
We have had a number of owners come to us when they're unhappy with their current company. Usually, the main complaint centers on communication, financial issues, and problems with tenants.
Communication and Property Management
You should expect clear and constant communication. Your property managers should be available to you by phone, email, text, or whatever method you're most comfortable using. You should have an online portal that's easy to access and full of information that you need.
We talk to owners who are frustrated that they never hear from their property managers and they don't know what's going on with their properties. That's unacceptable. If your property managers aren't available to you, they likely aren't available to your tenants, either.
At Blue Door, we use our technology to keep our owners in the loop. We always make sure you know what's going on with your rental property, and we're available to talk about anything on your mind.
Accounting Consistency and Accuracy
When your money isn't making sense, that's a huge problem.
You should trust that rent is being collected on time every month so that you are getting paid on time every month. If you can't count on your funds being released on time, there's a serious breakdown in the systems of your management company.
In addition to earning your income, you should also have access to monthly financial reports that are clear, consistent, and accurate. They should be easy to read, and they should always include any invoices or receipts for expenses that are reflected in those statements.
We have talked to owners who found they were charged thousands of dollars in maintenance fees, but they have no idea what that money was spent on. A good property manager will protect your property and your finances.
Managing Albuquerque Tenants Effectively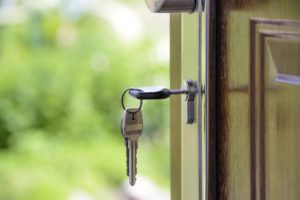 If your property is left vacant for a long time, you're losing money. Your property manager may not be marketing and showing the property effectively. If you find that tenants are leaving and not renewing their leases, it could be due to poor property management. When there are bad tenants in place who pay rent late or not at all and violate the lease terms and neglect to report important maintenance needs, your management company isn't screening well or enforcing your lease.
The day to day management of your property includes tenant relationships, rent collection, inspections, and if necessary – evictions. To have a successful investment experience, you need a management company that understands how to hold tenants accountable and keep your rental home in good shape.
We don't want you to suffer longer than you have to. If you feel like your current Albuquerque property management company isn't meeting your expectations, contact us at Blue Door Realty. We'd love to help you have a better experience.