At Blue Door Realty, we specialize in Albuquerque property management. While we are always happy to help our existing clients buy and sell properties, what we really love to do is help investors and landlords effectively lease, manage, and maintain their rental properties. We will work with our owners to grow their investment portfolios by acquiring new properties and sometimes a tenant will be interested in buying a home, and we'll work with them to make navigating the process a bit easier.  
Real estate is a small part of what we do, and our expertise in management is what attracts many of our professional real estate partners. We believe that property managers and real estate agents can work together effectively to bring better business to all parties. 
Let's talk about our Realtor Referral Program, which has been beneficial to many of the agents we partner with when property management is needed. 
Helping Albuquerque Real Estate Agents Retain Clients
If you're a real estate agent who has a client struggling to sell their property, consider advising them to rent it out. Maybe the market simply isn't working in their favor right now or they're unable to get the asking price they want. Whatever their struggles happen to be, we can help. If they rent out the home for a year or two, they can allow their equity and value to grow while earning consistent rental income. Then, they can sell when the market is more favorable. 
Don't lose your valuable client just because it's a challenge to sell that home right now. Instead, you can refer your client to us for property management services. You'll protect your future sales commissions and get the client back when they're ready to sell. 
Protecting Your Relationship and Your Business
Trying to manage the client's home as a rental on your own is dangerous. The laws and requirements in the rental industry are much different from those that govern your sales process. It's easy to make an expensive mistake, and such an error won't help you protect or build your business. 
We have excellent relationships in place with licensed and insured vendors, we understand how to reduce vacancy and turnover costs, and we know the state, federal, and local laws that pertain to fair housing, security deposits, rental increases, and tenant rights.  Professional Albuquerque property management is better for you and it's better for your client and their property. 
Expert Property Management in Albuquerque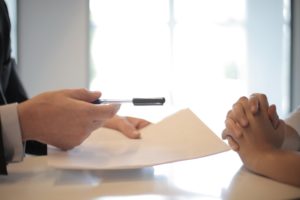 Our team will start by providing a complimentary rental analysis for your clients, so they know how much they can expect to earn in rent on their property. We'll provide a written contract for every client you refer to us so you can feel confident and secure when you partner with us. The contract will be clear on expectations for both sides. 
The best part? You earn a $250 referral fee when a client signs a management agreement with us. 
Real estate agents who partner with property managers can count on protecting their reputation and their client list. We'll take care of the property. We'll protect its condition, keep it occupied with a well-qualified tenant, and communicate with you and your client throughout the lease period. When your client is ready to sell, we turn them over to you.
If you'd like to hear more about our Albuquerque property management services or talk about a potential referral, please contact us at Blue Door Realty.