There are many excellent reasons to invest in Albuquerque rental property. However, there's also a lot of risk. It's easy to make expensive legal mistakes when you don't know the local, state, and federal laws pertaining to your rental property.
At Blue Door Realty, all of our property managers are required to join the National Association of Residential Property Managers (NARPM), and attend their monthly meetings. We invest in these memberships and in the continuing education of our team members because it protects our owners from liability and risk. We stay up to date on all the laws and regulations, and we know when changes are being considered.
It's important to keep yourself and your property in compliance with the New Mexico Tenant Landlord Relations Act and all fair housing laws. City ordinances for maintaining rental homes must be followed, and if your property is in an HOA, you'll need to follow all those rules and regulations.
Federal Laws: Fair Housing and ADA
Most of the federal laws that affect renting out your property are related to fair housing, discrimination, and credit reporting rules. The main law you need to concern yourself with is the Fair Housing Act. This law sets up protections for seven tenant classes. You aren't allowed to discriminate against anyone based on race, color, religion, national origin, sex, familial status, or disability.
The best way to ensure you're following all fair housing laws is to treat everyone consistently and to develop written policies. You should have standard rental criteria, checklists, and processes in place. Fair housing laws now include service animals and emotional support animals. You'll need to know how those differ from pets.
The Fair Credit Reporting Act is also specific about what you can and cannot do with the personal and financial information you collect not only from your current tenants but from those who applied for your home and were denied.
State and Local Laws: Security Deposits
Return Your Tenant's Security Deposit
Unless your lease specifies otherwise, New Mexico requires that you return your tenant's security deposit within 30 days of the tenant moving out. If the tenants left the home in excellent condition and you're returning the full deposit, simply send it to their new address. If you're making deductions, make sure you indicate what you're deducting for and why. You'll want to include any invoices, receipts, or estimates to show that the amount you're withholding is reasonable and valid. You don't want to find yourself in a dispute with your tenant.
HOA Rules and Regulations in Albuquerque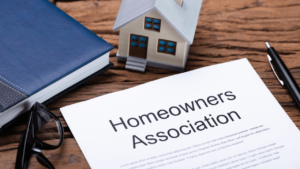 Often, the rules and regulations that come with a single-family home or a condo in an HOA neighborhood are more restrictive than the municipal laws.
A growing number of rental homes in and around Albuquerque are in HOAs. You might be renting out a new construction home in a master-planned community or a townhouse that's in an association. Both you and your residents need to respect the HOA rules and bylaws. It's very important that your tenant is aware of what those rules are. If they violate the rules of the HOA, you'll be the one held responsible because you're the property owner.
Keeping up with all of the state, federal, local, and HOA rules and laws can be time-consuming and challenging. We are continuously educating ourselves on these laws so we can provide the best property management to our owners and residents. If you have any questions about how these laws apply to your rental investments, please contact us at Blue Door Realty.