As soon as it began to look like the COVID pandemic was going to stick around longer than anyone had hoped, many property managers and landlords realized they had to make some big shifts in their business.
Luckily, at Blue Door Realty, we weren't affected too much. We didn't really have to change our operations because we had already been using technology to make the delivery of our services more efficient and effective. We're doing what we've always done – and what we've learned from the pandemic is that investing in the best property management technology is essential.
These are some of the benefits to working with an Albuquerque property management company that invests in technology.
Lower Vacancy and Turnover Numbers
Technology is especially beneficial during the leasing process.
The goal of having your home professionally leased is that you'll rent it for more money and to better tenants. You want it rented quickly as well, because you know vacancy costs money. When your property manager has the necessary technology, your listing will be shared on dozens or even hundreds of rental sites.
We work with software that can create a detailed rental listing. We include high-quality photos. Then, we place that ad in front of a large pool of potential tenants. Our software means this takes very little manual work.
We can also measure results. We track results by looking at how many people clicked on your listing and who contacted us. We'll analyze the number of people scheduling a showing and how many of those prospective tenants filled out an application.
Technology enables us to fill vacancies faster, and we can be more careful and consistent with our screening. When we run credit and eviction reports online, we collect all the data we need in hours rather than days.
Technology Helps to Document Repairs and Maintenance
Technology has allowed us to create online portals for both tenants and owners. In their platforms, tenants can request routine maintenance and repairs. This is a huge advantage because it creates a written record of all the work that's been done on your rental home. You'll know exactly when your roof was replaced, your plumbing was updated, and your gutters were cleaned out. You'll know that your appliances are breaking down every few months and may need to be replaced.
With a maintenance history, you will save money on unnecessary repairs and make educated decisions about when to replace something rather than repair it again. It also works to keep your tenants happy; they'd much rather request maintenance online at their own convenience.
It's much easier to inspect your property, too. Our property managers can document everything they find on-site, using their phones.
Online and On-Time Rental Payments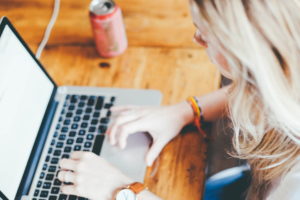 Online rental payments help us to collect rent on time. Tenants securely and conveniently pay from the comfort of their home and smart phone at any time of the day or night. They can schedule payments in advance and even set up recurring payments every month. This allows us to pay you when you expect it, and we can also provide online statements and reports.
Technology helps a property manager communicate better and work more efficiently and transparently. It protects you and your property by ensuring everything is documented, including inspections and invoices.
If you'd like to talk about how we can help you lease, manage, and maintain your Albuquerque rental properties with the help of our outstanding technology, please contact us at Blue Door Realty.