Smart investors know that working with a professional Albuquerque property management company is a good way to protect your time and your asset. At Blue Door Realty, we provide a full-service experience that's local and responsive. We're a boutique firm with a focus on residential management and HOAs in Albuquerque and the surrounding areas.
There are hundreds of good reasons to work with us. Today, we're focusing on just a few of the things that our owners love about the relationships we create.
Experience and Education
Property management has changed a lot in the last few years. The laws are stricter and simply leasing a home has become more complex. For this reason, we invest heavily in continuing education so we can stay one step ahead of all the new trends and requirements. Our staff is smart, experienced, and flexible. We belong to the National Association of Residential Property Managers (NARPM), which is a great resource and provides a lot of tools that lead to the better management of your properties.
Our exceptional marketing strategies and leasing process allows us to reduce vacancies and place great tenants in your property quickly. Our HOA experience allows us to deliver improved communication, accounting, and maintenance for your association. We have systems and processes in place that reduce your expenses and increase your rental income.
Communication and Care
You should expect responsive and accessible communication from your property manager, and that's what we provide. Our owners can reach us any time there's a problem or a question, and we'll be available to your tenants with the same sense of care and commitment.
Owners will always know what's going on with their property. We know that knowledge is power and good information helps you make good decision. With our investment in technology, you'll be able to access your owner portal from any place and at any time. There, you'll find accounting statements and reports. You'll see when maintenance was requested and completed. Tenants use their portals to pay rent and submit routine maintenance requests. It provides security and convenience, and everyone appreciates the ease of our online platform.
Our exceptional relationships with residents also leads to higher retention rates and better rental experiences for everyone. We haven't had an eviction in a long time, and we believe our tenant relationships help that. This doesn't mean we don't hold them accountable. Tenants understand what we expect from them, and they're good about meeting their responsibilities.
Real Estate Partnerships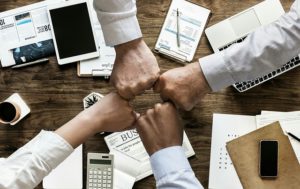 We focus on managing your rental property because that's what we do best. If you want to buy or sell a home, however, we can help you do that, too. Real estate is a small part of our business and those services are reserved for the clients we know. We also help our tenants buy houses.
Real estate agents who don't have a lot of property management experience are quick to turn to us for support and resources when they have a client who wants to rent out a home. This partnership works well because we turn the clients back over to the Realtor when it's time to sell the property.
Blue Door Realty is different than some of the other Albuquerque property management companies you may have encountered. We're attentive to the needs of our owners and residents. We value proactive and transparent communication, and we work well with our owners, tenants, and the entire community.
If you're looking for local property management that's personalized to your unique needs, contact us at Blue Door Realty.