With a military base in Albuquerque, renting to service members and their families is pretty routine. We also work with owners who have received PCS orders or a new deployment, and they face the decision about what to do with the home they own. 
When you're moving out of Albuquerque and into a new city, you may be wondering if you should sell your home or hold onto it and rent it out. For some people, it will be an easy decision. For others, it will be necessary to weigh the challenges and rewards of selling or holding onto the property. 
If you don't sell the home, you don't want to leave it empty. A better idea is to rent it out. As you're deciding what to do, consider these important factors. 
Renting vs. Selling: Financial Matters
For many homeowners, selling is necessary in order to access the equity and cash that's in the property. If you're planning to buy a new home in your new city and you need money for a down payment, you'll probably want to sell. 
If you're not sure you want to buy a home in the place where you'll be newly deployed, it's necessary to weigh your short term financial needs against your long term opportunities. While selling now will likely give you some cash, is it enough? If you don't have the equity in your property to make a sale worthwhile, hold onto the asset and allow it to grow in value. 
The market is always moving, and if you can get the sales price you want right now – great. If you're worried it will take some time to sell or you won't be able to earn what you're hoping to on the sale, hold onto the home. You can rent it out and earn some short term rental income while you wait to sell it. In a few years, you'll have more equity built up and the asset will likely have appreciated.
Will You Come Back to Albuquerque?
If you really liked the quality of life provided by New Mexico and you're planning to return to the area eventually, keep the home and rent it out. You'll have tenants who help you pay down the mortgage, and if you decide to return in a few years or even for retirement – you'll have a property waiting for you.
Renting out an Albuquerque Property
Selling your property is pretty simple. You and your agent will agree on a price, negotiate the terms, and then you'll move on. 
Renting out the property will come with several advantages:
You continue to hold a real estate asset that will grow in value. 

Your tenants' rental payments contribute to your mortgage, maintenance, taxes, and insurance.

Tax benefits exist for rental properties while selling may require you to pay capital gains
There are also some challenges. You'll be out of town, so you'll have to find someone to manage the property. You also have to realize that tenants and the rental market can be unpredictable. 
Working with Professional Albuquerque Property Managers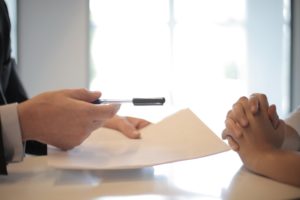 If you do decide to hold onto the home and rent it out, make sure you work with a qualified and experienced team of local property managers. You'll want a management company that specializes in out-of-state owners. It's important that you'll find peace of mind while you own rental property from afar. Look for a company that understands the local rental market, the fair housing laws, the leasing process, and how to maintain your investment. 
We work with military owners all the time, and we'd be happy to help you work through whether you should sell your home or rent it out to tenants – with our help. Contact our team at Blue Door Realty.