As a landlord, rental inspections are key to protecting your property's value. They help you find and deal with issues before they become serious and costly. 
Walk-through inspections are meant to protect both you and the tenant. On your part, you are able to safeguard your property against potential financial issues. On your tenant's part, a walkthrough inspection allows them the chance to point out any issues to you before it causes problems to their quality of life. 
The following are 8 tips on how to conduct a tenant walk-through inspection successfully. 
1. Create a Walk-Through Checklist
When creating a checklist, make sure to list every room as well as the existing condition of various components. You can find walk-through inspection checklists online or hire a professional property manager to create one for you if you don't want to create one on your own. 
A good checklist should list every room and specify all the elements contained therein. Such elements may include light fixtures, ceiling fans, sinks, windows, and doors. You may also want to leave a few blank spaces should you need to list additional items. 
The form should ideally have three columns next to the elements you've listed. You should use the columns to record the item's move-in and move-out condition and make a remark about their condition.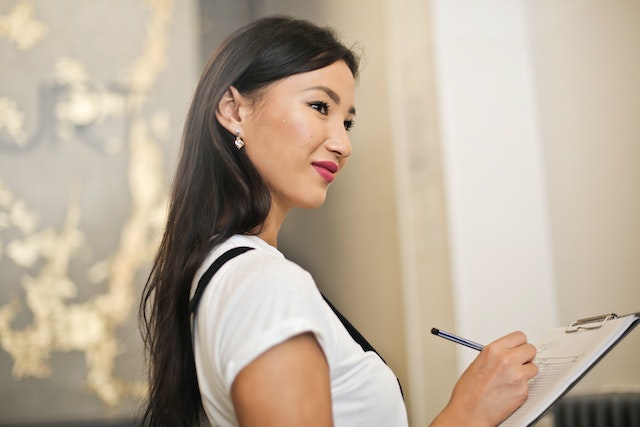 Then lastly, make sure there are signature lines for both you and the tenant to confirm the state of the unit and all the items present at the time of rental. 
2. Carry Out the Inspection Together
Signing a lease with a good tenant is the first step. However, it is equally important to walk through the property with the tenant, noting the move-in condition of the unit. 
Doing so will benefit you in two main ways. It'll allow both of you to inspect the property's condition, reducing potential misunderstandings when the tenant eventually moves out. 
A move-in inspection will also help you communicate your expectations to the tenant. You'll get the chance to let the tenant know the difference between damage and normal wear and tear, among other important distinctions. 
3. Keep the Walk-Through Simple  
If the tenant starts to feel that you are complicating the inspection, it could irritate or confuse them. Consequently, they may rescind their decision to rent your property. 
For instance, the tenant may feel that they may not meet your standards and may be better off renting elsewhere rather than risk the return of their deposit. 
Generally speaking, it should take no more than 20 minutes for an inspection. 
4. Take Pictures of the Property's Condition 
Visual documentation will be much more engaging and useful than text-heavy descriptions. Simple cell phone photos will, more often than not, suffice. 
When taking the photos, make sure to include each room and a close-up of any damage. Ideally, make sure the photos are date-stamped and have backups in a hard drive or a cloud storage system. Video documentation will also provide ample proof of the condition of the unit. 
5. Pre-Inspect the Property 
As already mentioned, a home inspection should not be more than 20 minutes. However, 20 minutes will not be enough to go through the property with a fine-tooth comb. 
As such, do your own checks before the tenant shows up in order to be thorough. Run the HVAC system to see its functioning. Observe the plumbing system for issues. Open and close all windows and doors to make sure they're working as they should. Check the roof for any leaks. This ensures there are no surprises in front of the tenant.  
If you notice any issues, seek out professional help right away. This will ensure that the tenant finds the property in its best condition. 
When you walk through the property with the tenant, go through the process once more. Only this time, you'll have a checklist indicating the move-in condition of various elements. 
6. Allow the Tenant to Discover Problems  
Allow the tenant at least 3 days to uncover additional problems. If the issue is legitimate, write it down and take photos or videos for documentation purposes. This absolves the tenant of any liability when they move out.
7. Follow the Law 
State law gives landlords certain rights and responsibilities. There are certain things you can and cannot do when a tenant is moving in and moving out.
In New Mexico, you may only charge a security deposit equivalent to one month. You must also return it, less allowable deductions, within 30 days of the tenant moving out. Wrongfully withholding the tenant's deposit may expose you to certain legal and financial risks. 
State law also dictates the conditions that constitute a habitable property. Some of the essentials that landlords are required to provide in New Mexico include the following. 
Garbage removal

Air conditioning

Plumbing and sanitation

Water

Elevators (in multi-unit buildings)
As a landlord it is also necessary to fulfill requested maintenance and repairs within 7 days, especially those that impact a tenant's health and safety. If you fail to handle the repairs the tenant may be able to withhold rent and take you to court. 
8. Hire a Property Management Company 
A tenant walk-through inspection is key to safeguarding your investment. That said, it can be incredibly time-consuming. That's why some property owners look for expert help from experienced property managers. 
A knowledgeable and experienced property manager will know where and what to look for when it comes to rental inspection. They will also know what the law says they can and cannot do. 
Bottom Line
These tips should help you carry out a thorough walk-through inspection to comply with the law and safeguard your investment property. For expert help, look no further than Blue Door Realty. We're a professional property management company in Rio Rancho.