When you're looking for a tenant to occupy your Albuquerque rental property, you want to find a responsible resident who can be counted on to pay rent on time, take care of your property, and follow the terms of the lease agreement.
Hopefully, you have a strong lease in place that's legally enforceable in New Mexico and includes all the pertinent information as well as the rules and requirements that pertain to living in your property
Enforcing the lease is an important part of managing your property. As professional Albuquerque property managers, we do this through inspections, excellent tenant relationships, and frequent communication.
Lease violations need to be addressed immediately. If the tenant does not rectify them, eviction is a potential consequence. These are the most common lease violations you can expect to encounter when you're renting out a home.

Unauthorized Pets in Albuquerque Rental Homes
Offering a pet-friendly property is a good idea for several reasons. It typically reduces your vacancy time and increases your tenant retention. It also allows you to earn a bit more on your property because you can charge a pet fee and/or a monthly pet rent.
All pets have to be authorized, however. They should be screened well, and your pet policy should cover the expected behaviors, precautions, and extra cleaning that may be required when someone moves in with a pet. Some insurance companies will not allow specific breeds.
Tenants who wish to avoid the pet fees and the pet screening will sometimes move in a pet without notifying you. This can create liability and also pose a risk to your property. If you discover an unauthorized pet, give the tenant time to either remove the pet from the home or go through the pet screening process which will include a pet fee or a pet deposit.
Unauthorized People Living in Albuquerque Rental Homes
Another common lease violation is moving in people who are not on the lease agreement. These individuals have not been screened and are not approved to live in the home. Sometimes, it's extended family members or roommates.
This is a problem because if an unauthorized tenant establishes residency, you may have a hard time evicting that person from your property. You also don't know who they are. You haven't had the opportunity to run credit or criminal reports and you don't have their legal identification records or contact information.
Guests are one thing. If someone moves in long-term, you need to amend the lease agreement to include the additional residents.
Nonpayment or Late Payment of Rent
Nonpayment of rent is the most common reason that landlords evict tenants. There's a process in place that must be followed for this particular lease violation. You'll need to contact your tenant and try to collect the late or missing rent. If you don't get anywhere, you'll need to file a notice for them to pay or leave the property, and then you'll have to take steps towards filing a legal court action.
Your lease must be clear about your rent collection policy and the consequences that will follow when rent isn't paid.
Albuquerque Rental Property Damage
Your lease agreement will hold tenants accountable for caring for your property. They cannot cause property damage from abuse, misuse, or neglect. If they do, you can require them to pay for it.
Damage can also occur when repair needs are not reported. Deferred or unreported maintenance is a lease violation as long as your expectations and instructions are included in that rental contract. Make sure your tenants understand the process for reporting repair issues and the importance of bringing maintenance needs to your attention right away.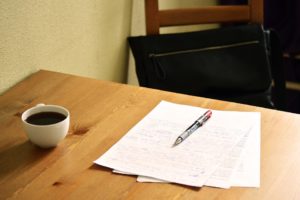 Tenants who violate lease agreements consistently look for properties that are managed by individual landlords rather than professional Albuquerque property managers. They know what they can get away with. Protect yourself from this danger. Contact us at Blue Door Realty, and we'll deliver a better rental experience.