Wondering how long it will take your Albuquerque rental property to be leased? We have some good news. The local rental market is very strong, even as most of the country struggles to recover economically from the ongoing pandemic.
In our experience, well-maintained homes have been able to rent within two or three weeks of being listed. In some cases, we've rented out a home in just a couple of days. That's great news for your cash flow and investment property.
How can you be sure your property will rent just as quickly? We have three important factors that will contribute to a fast rental period and a low vacancy loss: condition, pricing, and marketing process.

Albuquerque Rental Property Condition
Well-maintained homes are going to rent quickly. If your property is old, deteriorating, and in desperate need of modern updates, you're going to wait longer to find a tenant who is willing to move into such a home. Make sure you're offering an attractive, contemporary home. This will attract high-quality tenants quickly. Prospective tenants are always going to demand a home that's clean and functional. Make sure your curb appeal is working for you, too. You'll want a property exterior that's free of debris, weeds, and dirt.
Do a complete walk-through before you list your rental home. Make sure everything in the property works the way it should. Landlords should consider investing in minor upgrades and updates. Fresh paint and new floors will help you rent your property faster, as will new light fixtures and energy-efficient appliances.
Pricing Your Albuquerque Rental Home
Pricing plays a huge role in how quickly you're able to rent out your property.
Every landlord wants to earn as much as possible in monthly rent. However, if you overprice your rental home, you'll likely lose good tenants. Today's renters know what properties are worth, and they will not pay more than they have to. If your home is even a few dollars above market rent, tenants will look elsewhere for a place to live, leaving your home vacant.
It's not worth losing an entire month's rent on a longer vacancy just because you want to earn $1,500 a month instead of $1,200. In the long term, you'll lose money. Take a close look at what similar properties in your neighborhood are renting for, and make sure you're in the right range.
Correctly pricing your property will help attract qualified tenants. When you screen tenants make sure to check their rental history, contact their past landlords, and check their credit. This is the best way to ensure you have a property rented to a quality tenant.
Albuquerque Rental Property Marketing
Once a landlord's home is cleaned and function and priced properly, you'll have to market it. Most tenants are looking for their next home online, so your advertising should focus on the popular rental sites such as Zillow, Zumper, and Rentals.com. Make sure you're responding to anyone who calls or sends a message inquiring about the property. Manage showings that are safe and convenient for your prospective tenants, and make sure you're available to answer any questions about the application process or lease terms.
Professional Rio Rancho property managers can help you have a smooth and effective leasing process. At Blue Door Realty, we're a small company, so we can focus on your property when we're looking for a tenant. You won't have to worry about a long vacancy and its associated costs and risks.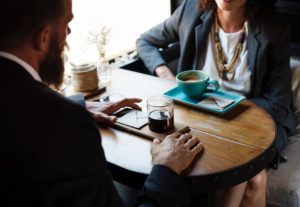 We also choose great tenants. Our focus is on tenant retention and in the six years that we've been leasing and managing homes, we haven't had an eviction in more than four years.
Contact us at Blue Door Realty for more information on quickly renting out your Albuquerque property.