As a property owner, you'll sometimes have to make tough decisions as you look to optimize your ROI. One such decision is whether or not to rent your house furnished. 
In the past, the only common utilities offered by landlords are heat, electricity, and water. Today, however, things have changed. Some specialized markets have popped up and are catering to specific needs certain tenants have. 
Some renters find moving furniture in and out of an apartment to be a huge hassle. Such tenants want to rent homes that are already furnished and move-in ready. But is the extra investment worthwhile? Well, here's everything you need to know in this regard! 
What is a Furnished Apartment?

 
A furnished apartment is a home that comes with the furniture and amenities you need to live in the space. However, there is no hard and fast list of what is actually included in a furnished apartment. Generally speaking, a furnished apartment should include the following items at the very least: 
The kitchen should have dishware, cooking utensils, a refrigerator, stove, oven, and small appliances like a toaster, microwave, or coffee maker.

 

The bedroom should come furnished with a bed, lamps, nightstands, and a dresser or a chest of drawers.

The bathrooms should have a shower curtain, a wastebasket, and floor mats.

 

The dining room should have chairs, a table, and some wall artwork.

The living room should be furnished with a coffee table and or end tables, a sofa, and lighting of some kind.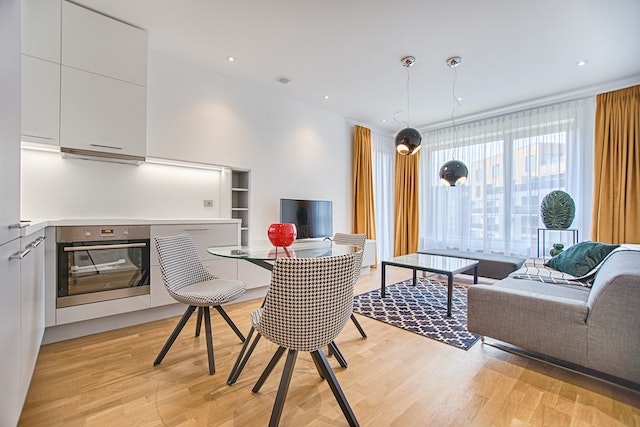 Some landlords may also expand on this list by including additional items. In the living room, for instance, you may decide to include things like a desk, an entertainment center, bookcases, a stereo, a television, houseplants, or a video game console. 
What Kind of Tenant Looks for a Furnished Apartment?

 
While a furnished apartment will appeal to a broad range of tenants, the common types of tenants drawn to these rentals are usually either students, contract workers, or tourists. These kinds of tenants typically want to stay in town long enough to want more than what a hotel offers, but not so long as to want to buy furniture of their own. 
For such tenants, having to move furniture in and out after a couple of months makes little sense. Additionally, moving homes can be a stressful experience. Not having to deal with large furniture can alleviate some of this stress.
The Pros

of Renting Out Furnished Property
The followings are some of the pros that come with renting out a furnished property:
You Can Charge More Rent

 
Of course, a furnished apartment will cost more than an unfurnished one. And you'll need to charge more rent for the convenience that it brings to a tenant's life. This means you can increase the monthly rental costs. 
Do market research on the competition to know how much you should be charging for your investment to be worthwhile. Aim for a rental price that will help you make a decent return on investment. In other words, a price that's high enough to cover the cost of furnishings and provide returns, but not so high to be undesirable. 
You can Charge a Higher Security Deposit

 
A security deposit provides a financial cushion against potential liabilities that come with renting out a property. Renting out a furnished apartment means there is more property to cover against potential damage. This, therefore, means that you should charge a higher security deposit or take measures to prevent this damage. 
Before charging a security deposit, make sure you understand both state and local laws for compliance purposes.  In New Mexico, the collection and return of security deposits are regulated under NM Stat § 47-8-18. It specifies, for instance, that landlords must not ask for a security deposit exceeding the rent of one month for leases that are less than one year.
There is Less Wear and Tear on Your Property

 
Moving large and heavy items in and out of your rental property will inevitably lead to wear and tear. This will typically be in the form of scrapes and bangs on the doorways, floors, walls, and trim.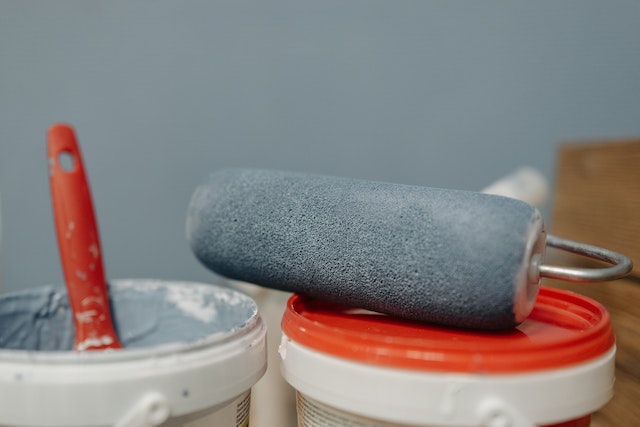 A furnished apartment, on the other hand, doesn't require a tenant to move large items in and out of the property. This can help save you money by not having to touch up paint or remove scuff marks from the floor. 
You'll be able to Run Targeted Ads

 
As already mentioned, furnished apartments often appeal to a specific group of tenants. By knowing who wants a furnished apartment, you'll be able to narrow down your target market and run targeted ads. 
You'll have an Easier Time Marketing the Property

 
A home that is fully furnished is great for visual marketing. This is because tenants are able to visualize themselves living on the property. 
The Cons

of Renting Out a Furnished Property
Here are some of cons associated with renting out furnished units:
A Furnished Apartment Means Investing More Money

 
Having to furnish a home can be an incredibly expensive affair. This is because you have to pay for the furniture and any upkeep that's due to normal wear and tear of the items.
Tenants Often Only Stay on a Short-term Basis

 
The typical tenant who rents a furnished apartment only stays for less than a year or on a month-to-month lease. As such, while you may be able to charge a premium, you'll have to work harder to ensure your property is occupied. 
Bottom Line
So, should you rent your house furnished? Well, as you can see, there is no straightforward answer. Among other things, it depends on the kind of tenant you're targeting. Look at the location of your property and then determine whether there exists sufficient demand to furnish your apartment. 
For expert help, look no further than Blue Door Realty. We're a reputable residential property management company that helps property owners in the Greater Rio Rancho, NM achieve peace of mind. Get in touch to learn more!